Our next productions are
21st – 24th March 2018
'Allo 'Allo
An hilarious comedy by David Croft and Jeremy Lloyd
Directed by Sarah Papouis
FADS are delighted to produce this play based on the hugely successful British television series that ran for seven seasons. This uproarious comedy relates the adventures of a hapless cafe owner, Rene, in occupied France. He and his wife have stashed a priceless portrait stolen by the Nazis in a sausage in their cellar, where two British airmen are also hiding until the Resistance can repatriate them. Communications with London using the wireless that is disguised as a cockatoo add to the many embarrassments this intrepid proprietor endures in the company of his patrons. News that the Fuhrer is scheduled to visit the town inspires tricksters disguised as Hitler to frequent the cafe. Meanwhile Rene summons all the wit he can muster to save his cafe and his life!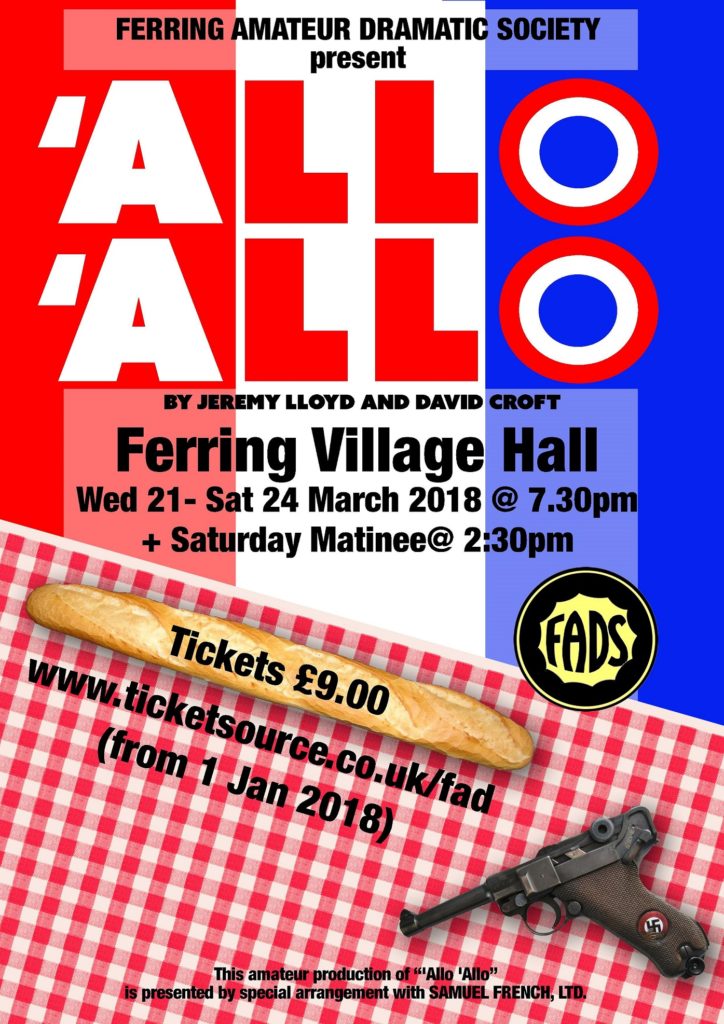 20th to 23rd June 2018
June Production
 Audacity
by Simon Mawdsley
Directed by Bob Wakelin.
Philip is going through a messy divorce. To make himself some money and give his life a boost of adrenalin, he devises a cunning scheme to rob the London department store Jarvis and Klein of its daily takings. He needs help, however, so he enlists John, an ex-stationery salesman sacked for fiddling his expenses, and Dave, another salesman with a hugely expensive lifestyle, as his partners in crime. The plot seems to be going well – until John and Dave's wives join forces to investigate their husbands' odd behavior.
November Production
21st to 24th November 2018
"To be decided"
Directed by John Dorkings