Meet and Greet evening on Wednesday the 29th May 2019 at Ferring Village Hall.
FADS  are actively seeking new members to join our well established society. To this end we will be holding a " meet and greet " evening at 7.30 till 10.00 on Wednesday 29th May to introduce ourselves. So, whether you are interested in being " on stage " or helping behind the scenes in any capacity, we would love to meet you. Refreshments will be provided .
James Bond Theme Mystery Evening  28th/29th June 2019 at Ferring Village Hall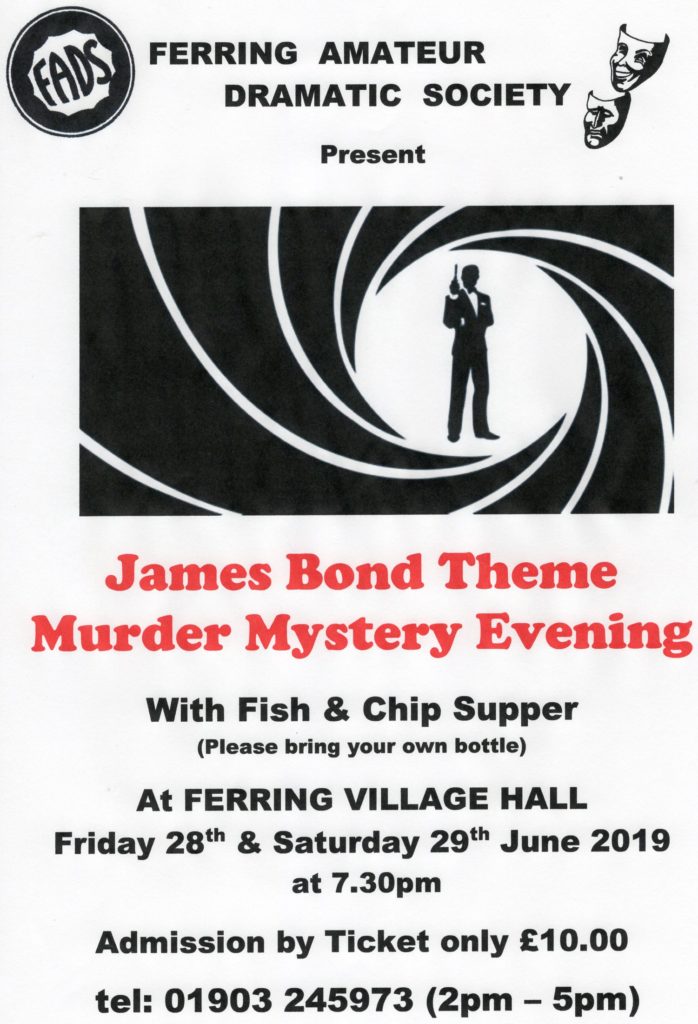 The evening will have a James Bond theme and, if you wish, you are invited to dress appropriately to add to the fun. Each evening there will be 10 tables of 6 with each table forming a team.  A short series of scenes will be acted out in front of the audience, cabaret style with a break for supper, raffle etc. The audience will be invited to question each member of the cast at some point in the proceedings and try and workout whodunnit!  Teams will decide who committed the crime, and where and how and give their reasons,  A prize will be allocated to the team judged to have given the most detailed and correct answer.